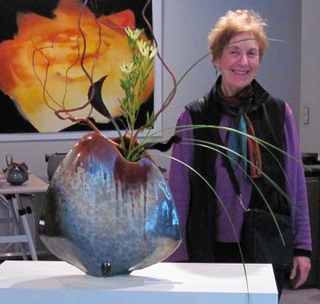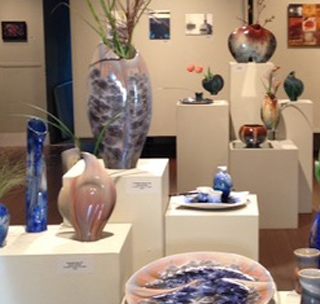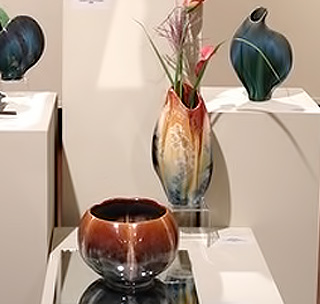 RESUME

EXHIBITIONS
Oct 2014 Vashon Allied Arts, 3-person Exhibition, Vashon island, WA
Sep 2014 Reaching Beyond, Northwest Designer Craftsmen at 60 -- Sep 2014-Jan 2015, Whatcom Museum, Bellingham, Washington
Aug 2012 Peninsula Art League Exhibition, Gig Harbor, WA
Mar 2012 Numerous NCECA 2012 exhibitions including 24/7, Seattle Art Museum Rental Gallery, Pacific Rim Connections', Azuma Gallery and The Chromatic Edge, Potters Council Show, Seattle Conv Cntr
Mar 2011 International Crystalline Shows: Tampa, FL;
May 2008 International Crystalline Show, Alexandria, VA; 2007, Cambridge Springs, PA; 2005,
Apr 07 Childhood's End Gallery, Washington Potters' Show, Olympia, WA, (award winner)
Aug 01, 06 Northwest Craft Center, 4 Potters, Seattle, WA
Jul l983-06 Pacific NW Arts & Crafts Show, Bellevue,WA (Award Winner 1983)
Apr 00,03,06 & 07 Strictly Functional Pottery National, Petersburg, PA (Award Winner '00 and '07)
Oct 2005 Bellevue Art Museum, 'Looking Forward, Glancing Back: Northwest Designer Craftsmen at 50', Bellevue, WA
Sep 2005 'Lattice Structures', an invitational international crystalline show, Kansas City, MO
Sep 04, 05, 06 King's Mountain Arts Festival, Mountainview, CA
Jun 89,95,96,05 Edmonds Arts Festival, Edmonds, WA (Award winner'89, 96, 06)
Aug 02, 05 Palo Alto Arts Festival, Palo Alto, CA
May 01,03, 05,07 Feats of Clay , Lincoln Arts, California (Award winner '01 & '03)
May l984-06 Washington Potters Assn. Show (Award winner 1989, '93, '98, '99, 02) Northwest Craft Center, Seattle, WA
Sep 94, 03 Sausalito Arts Festival, Sausolito, CA
Nov 02-Jun 03 Costa Rica Travelling Exhibit of Northwest Designer Craftsmen
Aug 2002 Sun Valley Arts Festival, Sun Valley, ID
Mar 2001 Porcelain 2001, Esmay Fine Art Gallery, Rochester, NY
Aug 2000 Clay Invitational, Coeur d'Alene, Idaho
Sep 1996 Edmonds Art Museum (solo show), Edmonds, WA
Oct 1993 Northwest Craftsmen, Renwick Gallery, Smithsonian Inst. Wash, DC
Sep 1993 King County Art Gallery, Invitational Exhibit, Seattle, WA
May 1993 Year of American Craft Invitational, Northwest Craft Center, Seattle, WA
1989,93,99,00 Whatcom County Art Museum, Bellingham, WA
Nov 1990-94 Best of the Northwest, Regional Show, Seattle, WA
Mar 1988-94 Scottsdale Arts Festival, Scottsdale, AZ
Dec 1992 Artworks Gallery, National Invitational, Seattle, WA
Mar 1992 Studio Potter Network Show, The Clay Studio, Philadelphia, PA
Apr 1990 North Light Gallery, NCECA Show, Covington, KY,
Mar 1990 Northwest Designer-Craftsmen, Bellevue Art Museum, Bellevue, WA
Oct 1988 Washington Centennia
Sep 1988 Baltimore Clayworks, Baltimore, MD
Jul 1974-87 Ann Arbor Art Fair, Ann Arbor, MI
May 1987 Incorporated Gallery, New York City, Invitational Teapot Show
May 1985 Lawrence Gallery, Salishan, OR (Solo Show)
Aug 1984 National Ceramics Invitational Exhibition, Bowling Green, OH
May 1978, 84 Cleveland Art Museum May Show, Cleveland, OH
Aug 1983 ACC Craft Fair, San Francisco, CA
Jun 1982 Stonington Gallery, Seattle, WA (Solo Show)
Jun 1982 Potters, USA, Springfield Art Association, Springfield, IL
Apr 1982 The Great American Bowl, Art Assoc. of Newport, Newport, RI
Apr 1982 Currents '82, Art Barn Gallery, Murfreesboro, TN
Dec 1981 Drinking Vessels '81, Branch Gallery, Washington, DC
Dec 1981 National Cone Box Show, Purdue Univeristy, IN
Nov 1981 Crafts for the Elegant Eighties, Cary-Windson Gallery, Richmond, VA
June 1980 Northwest Craft Center, Seattle, WA

COMMISSIONS
Dec 2014 Commission from executive with leading Seattle tech company for 29 vases Nov 2013 Large crystalline dinnerware set -- private corporate commission Feb 1996 Dustin-Coffey Residence, Seattle, WA, Bathroom Walls Tile Mural Nov 1995 Higa-Ellsworth Residence, Camano Island, WA, Fireplace Mural May 1993 Swedish Hospital, Seattle, WA, Tile Wall Mural 1988-1990 Sasch Stephens Stove Commissions Mar 1989 Felthaus Residence, Seattle, WA Kitchen Wall Tile Mural June 1988 Leslie Campbell Art Services, Seattle, WA, Wall Mural June 1986 Kennedy Residence, Seattle, WA, Bathroom Tile Mural Dec 1984 Walters-Principi Residence, Seattle, WA , Lighting Fixtures Jan 1984 Kroll-Carlin Residence, Seattle, WA, Kitchen Wall Tile Mural July 1983 Nora Eccles Harrison Museum of Art, Utah State, Logan, UT April 1983 Morgan Residence, Lk. Forest, WA, Bathroom Wall, Sink, and Floor Tile Oct 1981 Brandeis University National Women?s Committee, Landscape Platters May 1981 Pierce Design Co., Seattle, WA, Fireplace Hear

EXPERIENCE
April 2013 Guest Speaker at the International Crystalline Conference in Bisbal D'Emporda, Spain. May 2005 Ceramics workshop instructor, Silpakorn University, Bangkok July 2004 Ceramics Workshop Instructor - Metchosin International Summer School of the Arts, Victoria, British Columcbia, Canada April 2003 Demonstrator, workshop leader at Ignition, the 10th Australian National Ceramics Conference in Bendigo, Victoria, Australia 1994,?96,?98 Ceramics Workshops Instructor - South Australia, Victoria, Queensland, ?01, ?03, ?04, ?06 1991, 96, ?06 Ceramics Workshops Instructor -Auckland, Wellington, and Christchurch, NZ 2000 Juror, Edmonds Arts Festival, Edmonds, WA 1983,?89,?96 Juror, University District Street Fair, Seattle, WA 1995 Juror, Best of the Northwest, Seattle, WA 1980-1995 Ceramics Workshops - Michigan, Ohio, Washington, California 1992 President, Washington Potters Association 1992 Juror, Pacific Northwest Arts Festival, Bellevue, WA 1986-1989 Ceramics Instructor, Seward Park Art Studio, Seattle, WA 1985-1989 Substitute Ceramics Instructor, Highline Community College, Burien, WA

Educational & Crafts Background
University of London, Slade School of Art, London, England - 1965-1966 University of Michigan, Ann Arbor, MI - BA, 1967; MA, 1970 Workshops with Paul Soldner, Peter Voulkos, Toshiko Takaezu, Bob Sperry, Dave Shaner, Patti Warashina, and Warren Mackenzie - 1976-present

ARTIST'S STATEMENT
I have been a studio potter for 45 years, my work evolving from functional stoneware to decorative porcelain. The pieces exhibit my strong interest in form - sculpting the porcelain into out-of-round shapes that are organic, sometimes almost figurative. I work to stretch the porcelain to its fullest potential, whether I throw, use slabs, slip cast, or extrude the clay.
I spray layers of glazes to accentuate the curves, shadows and mood of each piece. Recently I have become fascinated by crystalline glazes. Crystal development depends on the firing temperature, glaze formula and application. The piece is fired on a pedestal, with excess glaze collected on a tray beneath. The pedestal is separated by chisel and the bottom of the piece ground smooth. This technical process feels quite magical, a surprise, as I vary these elements and explore crystalline glazes.
During the past sixteen years I have taught workshops in New Zealand, Australia, and Thailand and have travelled throughout the South Pacific and Asia. These breaks from my studio work inspire me with energy, color, and form. I continue to integrate into my pieces the skills and philosophies, people, places, moods and friendships I discover as I travel and work in other countries and cultures.